About Bikepath

Bikepath is the result of a spark of an idea.
To have a range of t-shirts for people who like to ride and who do so with an open mind and joyful heart. Fortunately I also have the resources of online print on demand portals like RedBubble which enables me to deliver to people anywhere in the world to their front door, their choice of shirt, their size and colour. All original designs too. Thus less waste and a smaller footprint which is one of the core ideals I have for a sustainable business.

So please have fun looking through the shirts and if you want to leave a comment I'd be delighted to respond. If you would like to purchase a
t-shirt, that's great too and all you need to do is click on the shirt and you will delivered at the speed of sound to the RedBubble site.
I live in Melbourne, Australia which is a fabulous city for getting around on a bicycle. I will be adding information about bike rides and events as I come across them. If you would like to add bike events to the site that like-minded cyclists may be interested in, please contact me.

Purchase your T-shirt using RedBubble.com
If you would like to own one of these original pieces from the collections in Bike Tee Shirts click on the BUY link under the T-shirt of your choice. This will direct you to my site on RedBubble where you can proceed to choose your style of T-shirt, your shirt colour and your size.
The secure online transaction and quality control provided by RedBubble means you are guaranteed a quality product every time.
If you have any queries please contact me

and I will see to it right away. Your feedback is much appreciated so write a comment or two.

Bikepath Tee Shirts - Taking Care of your Tee

bikepath designs are printed by RedBubble on 100% cotton and are available in cuts to suit men, women and children. To keep them looking great, turn them inside out, wash them in cold water and hang them up to dry.
Prices vary due to boring things like exchange rates and exciting things like shirt sizes so please click on the thumbnail and check.
All the shirts have a story.
Would you like to stay connected?

I try and think of a positive connection between riding a bicycle and making meaningful decisions to bring about a shift in our future way of being on this planet. Sometimes I have lots of ideas and sometimes it takes a while but as I upload a new shirt I will let you know if you would like to connect to my page on facebook.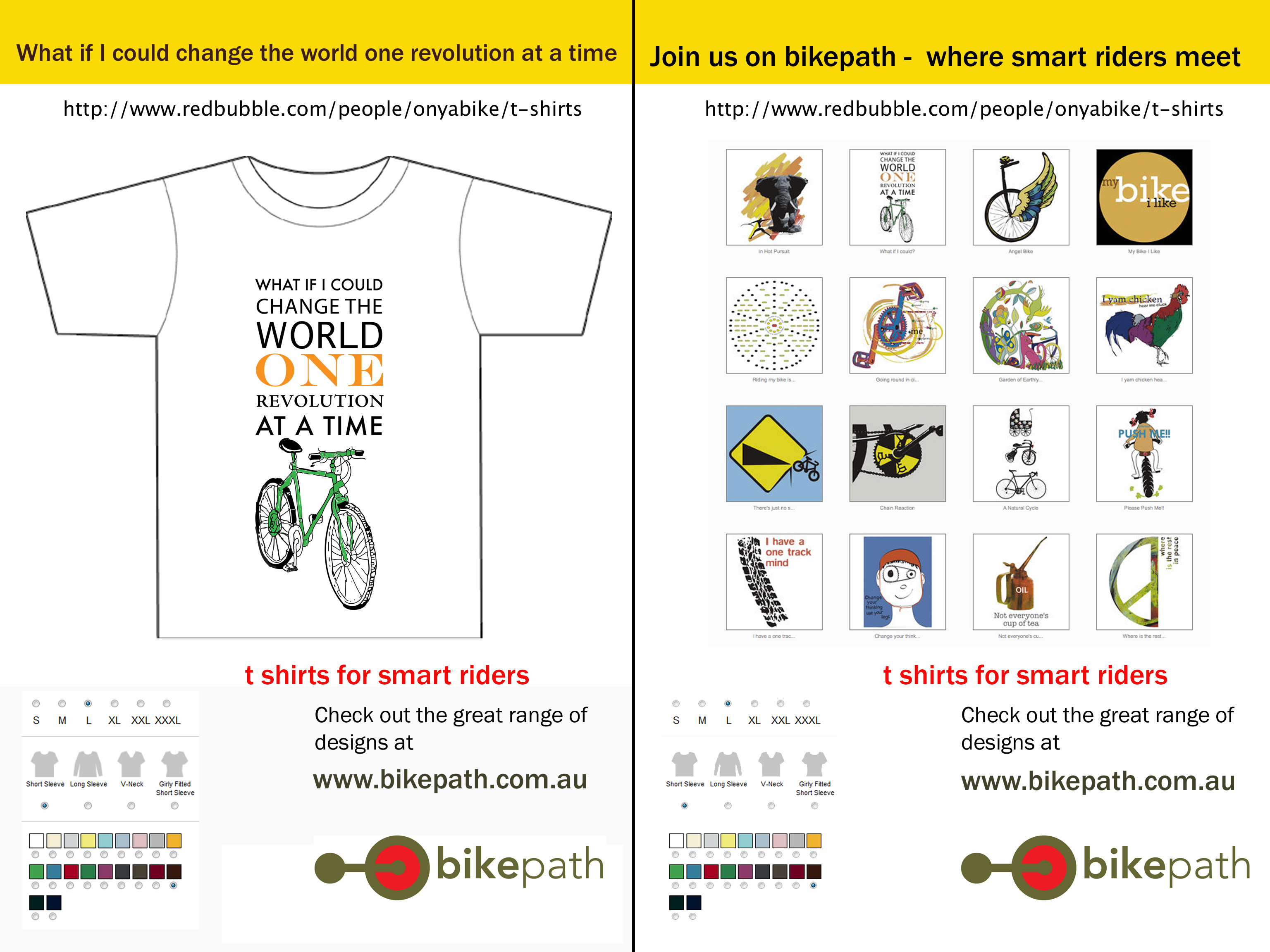 Visitors from all over the world. Welcome.